The Maca Experts is a collaboration of two families between New Zealand, Australia and Peru bringing sustainable change to the maca and superfood industry.
The Maca Experts, from left, Florencio, Sally, Yraida and Corin.
Our Maca from Farm to Table
Dr Corin Storkey (New Zealand/Australia) and Sally Huapaya (Peru) work in partnership with farmers Florencio and Yraida Aquino (Peru) to produce direct farm to table maca products in Peru for Australasian and international consumers. Their model focuses on preserving the ancient cultivation techniques, the culture and history of maca and connecting consumers directly to the farm, farmer, community and sacred spirit of the plant.
Their model is also about educating consumers how to take maca, how to use it to treat different conditions based on tradition and scientific substantiation of traditional claims. Their vision is ensuring the sustainability of maca. Sustainability of the history of maca, the ancient farming practices, the environment, the story, the culture, the sacred traditions, the science and the health benefits. Through education, collaboration and social responsibility we hope to protect the sacredness of maca for generations to come.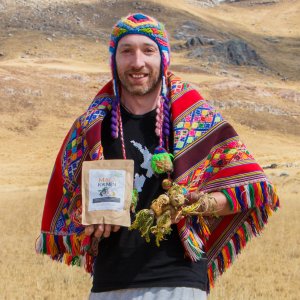 I have a PhD in medicinal chemistry with 15 years of academic and research experience in New Zealand and Australia. I met Sally in Peru and she shared with me the incredible culture behind her Incan ancestry and their amazing natural ways to heal using plants. We inspired each other to leave our corporate jobs and pursue our own social enterprise with the focus on giving back and making a difference in the world.
We wanted to do something to help the traditional people of the mountains of Peru, where her family originated from and also those suffering with chronic health problems in my home of NZ. It was really a vision of connection, connecting two cultures on two different sides of the world. Centripetal to our vision was a unique Peruvian plant called maca that had both changed our lives in different ways.
For me maca was a big part of rebuilding my life and mental health. It drastically improved my energy, made it easier to deal with stress and returned my mental health to balance to the point where I could come off my anti-depressant medication and remained balanced long-term. It made me feel strong and resilient again. As a scientist I wanted to learn more about the biochemical secrets behind its benefits. So together we established The Maca Experts as a blend of our experiences and strengths to forge a way for us to help others both in Peru and here in New Zealand. Sally focused on the production, traditions, processing and social responsibility, I focused on the research, science, analysis and education.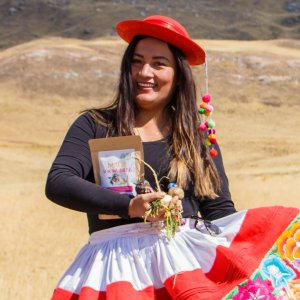 I am an industrial engineer with 13 years of experience working in a financial institution in Peru. I grew up consuming maca as a child, learning from my mother and grandmother the importance of maca, its traditions, links to my culture and amazing healing properties. I consider maca to be a symbol of my roots as a Peruvian and Incan ancestor, it is my connection to Pachamama (mother earth) and my way to maintain good health and well-being.
I felt I needed to go back to my roots and help my people struggling with exploitation due to global consumerism and demand of our sacred plants. I have seen my people losing the value of their sacred practices and their exploitation leading to a loss of culture and tradition.
I wanted give a voice to the marginalised farmers and communities that produce maca and take a stand against the global corporate system. I wanted to rescue their sacred traditions and help them understand the value of what they have and the need stay connected to their roots. And I wanted to share our medicines with the world and those who might need them. All our maca is filled with love and healing intention and is produced with the greatest respect for Pachamama (mother earth).
Florencio and Yraida are maca experts who specialise in the cultivation and production of premium medicinal maca following ancient ancestral organic farming techniques. Their farm and farming techniques focus on preservation of ancient spiritual practices and respecting pachamama (mother earth) and her environment. Every batch they produce is made with love, passion, care and intention to help and to heal. They are some of only a few traditional farmers left who keep their ancient traditions surrounding maca and produce in artisanal batches.
For both Florencio and Yraida, maca is a way of life, a spiritual connection to Pachamama and to their roots as Incan descendants. They work incredibly hard to produce their amazing crops and their attention to detail is second to none. We are blessed to have them as part of our team at The Maca Experts and to be able to assist them to share their medicine with the rest of the world.
As a family they spend a lot of time assisting their local community to improve the way of life for all others in their village. They are also an integral part of The Maca Experts social responsibility program and help with the allocation of funds and identification of local needs for development. You can come and experience life as an Incan farmer with them every July in Peru at their farm as an eco-tourist see more details here.
See our respect for Pachamama and intention for our maca